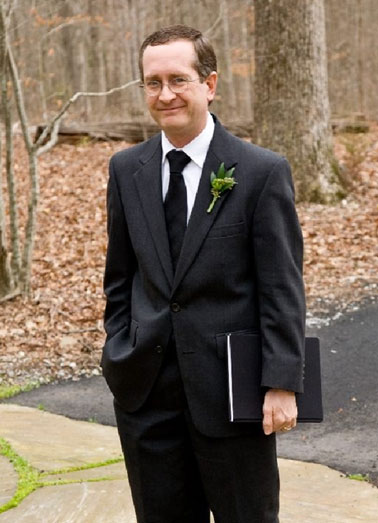 Since 1994, Reverend Sam Mixon has guided couples from all over Georgia through one of the most important days of their lives with comfort and ease.
Rev. Sam believes that couples deserve flexibility and openness to create the ceremony that speaks to them, one that will resonate from the day of the ceremony throughout the marriage. He is dedicated to helping brides and grooms find the words that reflect their uniqueness as much as possible and helping them feel at ease about the wedding service. Known for his calm demeanor in all situations, he has mastered the art of subtle improvisation to any situation, which makes both large and small weddings seamless.
He shares his knowledge of traditional and nontraditional Georgia wedding locales and also works with event planners or helps with certain aspects of planning when needed. His main focus, of course, is the ceremony itself – the bride and groom, the words, the tone, and the intimacy of the moment – all blending together in a ceremony that bonds, inspires, and lingers long past the day itself. "I like for my couples to be excited, not nervous," Rev. Sam says. "I always remind them that once they're in front of me they can just relax, enjoy the moment, and take mental pictures while I take over."
Rev. Sam has lived in Athens-Clarke County since 1981 and is married to Mary Claire Mixon, who is an instructor in modern dance at Cedar Shoals High School and a graduate of UGA. They have a daughter named Holly. He is a cum laude graduate of the University of Georgia with a BA in advertising and a split minor in business/English. He has been an ordained minister in Georgia for over 15 years.